This is very simple, with this app (Awesome Note) you don't have a local backup of your data. Currently you have a backup, but this backup is protect by a password. And BRID don't communicate the password. On the site, Awesome don't precise :
3. Awesome Note Data Backup This will compress all notes created in Awesome Note and save it to one '.anb' file. Backup file will be saved according to the date for you to choose which file to restore from in the future.
In fact the .anb it's a zip file with password. So you don't own your own data.
So for exemple if you want to migrate ( iOS ) to Android, and choose for exemple Diaro . It's impossible to Diaro (http://www.diaroapp.com ) to collect your previous data … It is very important in this type of software to have an open backup system. So that anyone can do the migration.
If you see Diaro backup for exemple, you have an open balise in XML :
<data> : data
<table> : table
<r> : Folder or Tags or Data
<uid> : unique number
<title> : title
<color> : color
<pattern> : pattern
<address> : address
<lat> : Latitude
<lng> : Longitude
<zoom> : Zoom
<date> : date
<tz_offset> : Timezone.
<text> : text.
<folder_uid> : UID du folder.
<location_uid> :  UID de la location.
<tags> : List of UID for tags.
<primary_photo_uid> : UID de la Photo.
<entry_uid> : UID de la photo
<type> : type of media
<filename> : name of media
<position> : position du media.
And you can find easily a software who import data from Diaro, for exemple Journey (https://2appstudio.com/journey/): http://help.2appstudio.com/journey-import/ .
So for me Diaro, Journey are good softwares and Awesome Note not !
The priority for this kind of software :
« Open Backup » (with XML tag), to do migration easily (This is not the case for AwesomeNote).
Don't force to use Cloud (This is not the case for for Diaro). For me the Cloud it's not secure …
Use of keys words.
Put a note on Map. (It's more easy to remember a location than time in some case)
Possibility of adding a password to the app.
Another point, no support since 08/2015 . On twitter :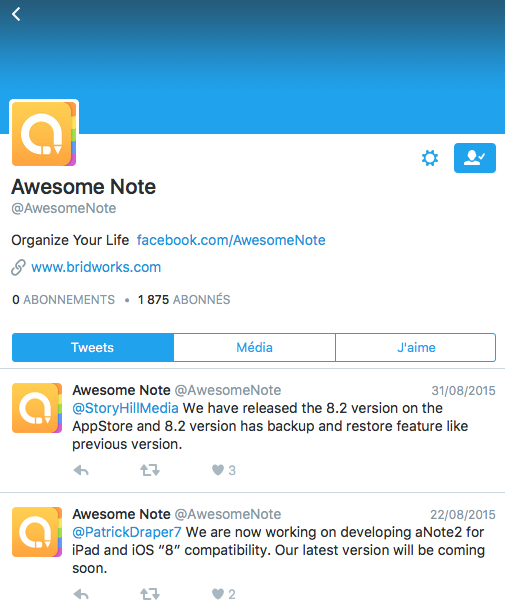 No support by email : anote.support@bridworks.com .
No support on Facebook since 08/2015 :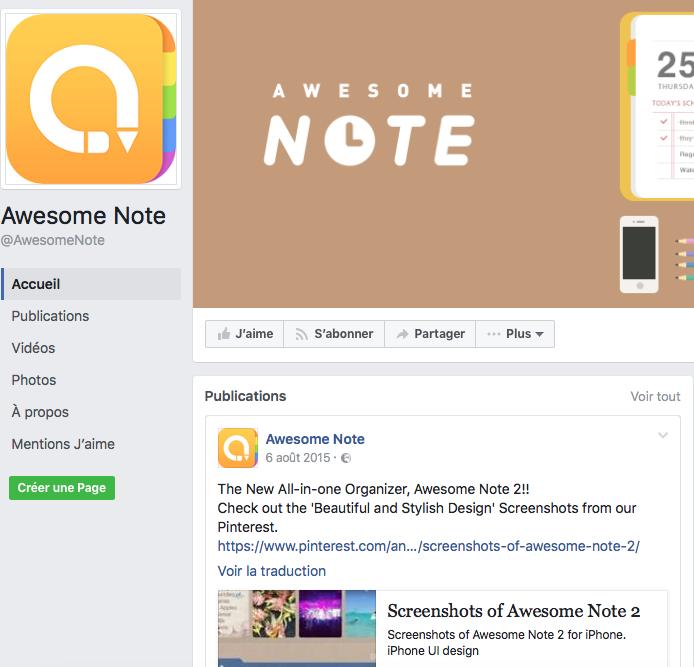 History of release for AwesomeNote 2 – All in One Organizer .
Version 8.7.3 : 19 dec. 2016.

– Fixed the problem that tags are unexpectedly erased during Evernote syncing.
– Improved Evernote sync speed.
– Fixed the bug that caused the body text to disappear when using a tab to open a note in the Widget or Notification Center.** We apologize for any inconvenience caused. If you have a backup file, you can delete the note with missing data and restore the backup.

Version 8.7.2 : 15 dec. 2016.
Version 8.7.1 : 10 dec. 2016.
Version 8.7.0 : 22 nov. 2016.
Version 8.6.8 : 19 nov. 2016.
Version 8.6.7 : 25 oct. 2016.
Version 8.6.6 : 19 oct. 2016.
Version 8.6.5 : 12 oct. 2016.
Version 8.6.4 : 8 oct. 2016.
Version 8.6.3 : 4 oct. 2016.
Version 8.6.2 : 30 sept. 2016.
Version 8.6.1 : 27 sept. 2016.
Version 8.6.0 : 22 sept. 2016.
Version 8.5.1 : 24 juin 2016.
Version 8.5.0 : 23 juin 2016.
Version 8.4.7 : 28 avr. 2016.
Version 8.4.6 : 22 avr. 2016
Version 8.4.5 : 19 avr. 2016
Version 8.4.4 : 18 avr. 2016
Version 8.4.3 : 29 mar. 2016
Version 8.4.2 : 8 mar. 2016
Version 8.4.1 : 2 mar. 2016
Version 8.4.0 : 11 feb. 2016
Version 8.3.0 : 2 dec. 2015
Version 8.2.6 : 10 nov. 2015.
End for support Twitter : 31 august 2015

End for Facebook support : 26 august 2015

…
Version 6.21 : 16 oct. 2012.
Twitter : @awesomenote . 24 juin 2012.
Version 6.02 : 1 may 2012.
Version 6.01 : 19 avr. 2012.

-Sync with iOS Default Calendar
-Support event in calendar view
-Possible to add & edit eventFiltering function in list view mode (calendar and note-type)
-Enhanced UI

Facebook : 11 oct. 2012 : https://www.facebook.com/AwesomeNote/ 
My previous post on Awesome Note (in French, sorry 😉 ) :
Try to find the password on Binary …
If I see a bin of Awesome Note (file Payload/aNoteHD.app/aNoteHD ) :
/usr/lib/dyld
/usr/lib/libxml2.2.dylib
/usr/lib/libc++.1.dylib
/usr/lib/libicucore.A.dylib
/usr/lib/libsqlite3.dylib
/usr/lib/libz.1.dylib
/System/Library/Frameworks/AddressBook.framework/AddressBook
/System/Library/Frameworks/AssetsLibrary.framework/AssetsLibrary
/System/Library/Frameworks/CFNetwork.framework/CFNetwork
/System/Library/Frameworks/CoreFoundation.framework/CoreFoundation
/System/Library/Frameworks/CoreGraphics.framework/CoreGraphics
/System/Library/Frameworks/CoreLocation.framework/CoreLocation
/System/Library/Frameworks/CoreMotion.framework/CoreMotion
/System/Library/Frameworks/CoreTelephony.framework/CoreTelephony
/System/Library/Frameworks/CoreText.framework/CoreText
/System/Library/Frameworks/Foundation.framework/Foundation
/System/Library/Frameworks/ImageIO.framework/ImageIO
/System/Library/Frameworks/MediaPlayer.framework/MediaPlayer
/System/Library/Frameworks/MessageUI.framework/MessageUI
/System/Library/Frameworks/MobileCoreServices.framework/MobileCoreServices
/System/Library/Frameworks/Photos.framework/Photos
/System/Library/Frameworks/QuartzCore.framework/QuartzCore
/System/Library/Frameworks/QuickLook.framework/QuickLook
/System/Library/Frameworks/SafariServices.framework/SafariServices
/System/Library/Frameworks/Security.framework/Security
/System/Library/Frameworks/StoreKit.framework/StoreKit
/System/Library/Frameworks/SystemConfiguration.framework/SystemConfiguration
/System/Library/Frameworks/UIKit.framework/UIKit
/System/Library/Frameworks/WebKit.framework/WebKit
/System/Library/Frameworks/UserNotifications.framework/UserNotifications
/System/Library/Frameworks/CoreSpotlight.framework/CoreSpotlight
/System/Library/Frameworks/LocalAuthentication.framework/LocalAuthentication
/System/Library/Frameworks/AddressBookUI.framework/AddressBookUI
/System/Library/Frameworks/EventKit.framework/EventKit
/System/Library/Frameworks/EventKitUI.framework/EventKitUI
/System/Library/Frameworks/GameKit.framework/GameKit
/System/Library/Frameworks/MapKit.framework/MapKit
/System/Library/Frameworks/AudioToolbox.framework/AudioToolbox
/usr/lib/libobjc.A.dylib
/usr/lib/libSystem.B.dylib
/System/Library/Frameworks/AVFoundation.framework/AVFoundation
/System/Library/Frameworks/Accelerate.framework/Accelerate
/System/Library/Frameworks/Contacts.framework/Contacts
/System/Library/Frameworks/CoreMedia.framework/CoreMedia
/System/Library/Frameworks/Social.framework/Social
/System/Library/Frameworks/WatchConnectivity.framework/WatchConnectivity
The API to compress and uncompress with iOS is :
NSString *filepath = [[NSBundle mainBundle] pathForResource:@ »ZipFileName » ofType:@ »zip »];
ZipArchive *zipArchive = [[ZipArchive alloc] init];
[zipArchive UnzipOpenFile:filepath Password:@ »xxxxxx »];
[zipArchive UnzipFileTo:{pathToDirectory} overWrite:YES];
[zipArchive UnzipCloseFile];
[zipArchive release];
I try for password to unzip the file (without success):
Y46T66BSN6 (it's <key>com.apple.developer.team-identifier</key>)
5614542
444444
8F&(888888:F
5MCAE7ET84  (it's <key>application-identifier</key>)
080521020415Z
200521020415Z0P1
070412174328Z
220412174328Z0y1
060425214036Z
350209214036Z0b1
14MNawwWKhXTK6C7rUN+yZ/Kn1I=
Y63k/DWQWF9dajwmAcjQsTz/48I=
!H[DÜYX1ES
I see also in binary :
<?xml version="1.0" encoding="UTF-8"?>
<!DOCTYPE plist PUBLIC "-//Apple//DTD PLIST 1.0//EN" "http://www.apple.com/DTDs/PropertyList-1.0.dtd">
<plist version="1.0">
<dict>
        <key>cdhashes</key>
        <array>
                <data>
                14MNawwWKhXTK6C7rUN+yZ/Kn1I=
                </data>
                <data>
                Y63k/DWQWF9dajwmAcjQsTz/48I=
                </data>
        </array>
</dict>
</plist>
And also :
<?xml version="1.0" encoding="UTF-8" standalone="yes"?>
<!DOCTYPE plist PUBLIC "-//Apple//DTD PLIST 1.0//EN" "http://www.apple.com/DTDs/PropertyList-1.0.dtd">
<plist version="1.0">
        <dict>
                <key>com.apple.developer.icloud-container-identifiers</key>
                <array>
                        <string>iCloud.com.brid.AwesomeNote</string>
                </array>
                <key>com.apple.developer.team-identifier</key>
                <string>Y46T66BSN6</string>
                <key>com.apple.developer.ubiquity-container-identifiers</key>
                <array>
                        <string>iCloud.com.brid.AwesomeNote</string>
                </array>
                <key>application-identifier</key>
                <string>5MCAE7ET84.com.brid.AwesomeNoteHD</string>
                <key>com.apple.developer.icloud-services</key>
                <array>
                        <string>CloudDocuments</string>
                </array>
                <key>com.apple.developer.icloud-container-environment</key>
                <string>Production</string>
                <key>com.apple.security.application-groups</key>
                <array>
                        <string>group.com.brid.AwesomeNoteHD</string>
                </array>
        </dict>
</plist>
I try also Class-Dump (without success) :
./class-dump Payload/aNoteHD.app/aNoteHD 
//
//     Generated by class-dump 3.5 (64 bit).
//
//     class-dump is Copyright (C) 1997-1998, 2000-2001, 2004-2013 by Steve Nygard.
//
#pragma mark -

//
// File: Payload/aNoteHD.app/aNoteHD
// UUID: 5AC78230-6D60-3F13-A3F3-D6032521E799
//
//                           Arch: arm64
//                 Source version: 0.0.0.0.0
//            Minimum iOS version: 9.0.0
//                    SDK version: 10.2.0
//
// Objective-C Garbage Collection: Unsupported
//         This file is encrypted:
//                                   cryptid: 0x00000001
//                                  cryptoff: 0x00004000
//                                 cryptsize: 0x007cc000
//
No header … 🙁